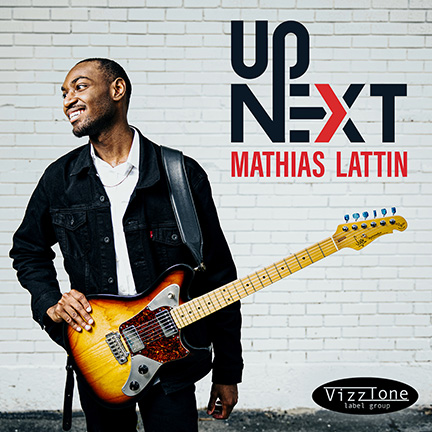 Quickly emerging young Texas musician Mathias Lattin won 1st place at the 2023 International Blues Challenge in the band category and the Best Guitarist Award at just 20 years old. 
A graduate of the acclaimed Kinder High School for Performing and Visual Arts magnet program, Mathias was offered a scholarship at Boston's Berklee College of Music – but the Pandemic quickly scrapped those plans. Mathias came up quickly in the Houston scene, playing Jonn Del Toro Richardson's blues jams when he was 13, and later joining Keeshea Pratt's band. Houstonians like Annika Chambers and Shawn Allen served as mentors and inspiration. Mathias wrote and produced all the songs on his forthcoming album, Up Next. 
"It's good to see Mathias getting out there as a solo artist, he's a very talented young man and we definitely need more soldiers to help keep the Blues striving!" – Ronnie Baker Brooks
 "Smooth vocals, awesome songwriting, and dope guitar work, really great album, original" – Christone "Kingfish" Ingram
 "This album is a complete vibe. From song to song feels like I'm right there, front and center! Great guitar tone! It's a must have!" – Mr. Sipp
In a recent Living Blues article, Lattin expresses his feeling for the awesome power of music: "Music has literally been able to save people's lives. The stories that it can tell, the emotions that it can communicate, it's a powerful thing. It makes us move, It makes us feel. It makes us—for lack of a better term—human. And without that, this world would be a whole different place, a different experience. Without that, it would all be less human, more mechanical."
Lattin's training as a jazz guitarist is reflected in his refreshing jazz-inflected chords and funky bass lines. The first single from the album is "Lose Some Weight," a blues with exquisite rhythmic and dynamic features. "You keep running from me, honey / And you're wasting my time / You keep leaving me, baby / And I just want you off my mind now."
This Fall Mathias and his band are hitting the road hard in support of the new record. He recently joined Joe Bonamassa's Keeping the Blues Alive at Sea Cruise as a special guest of Christone "Kingfish" Ingram, performed at the Big Blues Bender in Las Vegas, and he's psyched for the Telluride Festial and the Legendary Rhythm and Blues Cruise.